A quick update – we've had a long black on the Manly ferry, stayed with garden gnomes in brick motels, and enjoyed the roman charm of an old B&B with a very friendly old goose. All in all, great fun.


Internet access has been sporadic due to our various accommodations and traveling; currenly we're in the Adelaide airport after scoring quite a hoard of wonderful wines from the Barossa Valley and McLaren Vale regions. We had a great time traveling from winery to winery and talking with the locals about what they love.
Now we're back to Sydney for a few days, where we'll be off to explore the Blue Mountains and perhaps some waterfalls and caves, before heading back on Tuesday (it's Sunday afternoon now). Fun!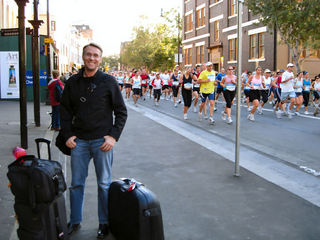 MB and I arrived at Sydney intact… and found our hotel right in the middle of a half marathon. So we got our own 2K walk to the hotel at the end of the cab ride.

But we're here! I swear. If you could see through the HDR bloom in the background, you'd see the Sydney Bridge there.
Yay!