Cambodian Buddha
For a few years, I've thought about purchasing a small Buddha statue for my home. The perfect place to do it seemed like it would be Akasaka in Tokyo. There's a big huge temple there, on the outskirts of the city, and I try to visit it every time I visit Japan. Of course, now that I think about it I'm not even sure it's a Buddhist temple! In any case, last time I was there I didn't really see anything I liked in the market nearby.
About three months ago I found a gorgeous statue at an asian art store in Chicago. I took some pictures of it, and when life calmed down and I decided to purchase it a week later, I discovered that it had been sold. Drat!
So on the RTW trip I thought perhaps I'd look around a bit for something. Siem Reap in Cambodia, where Angkor Wat is, seemed the perfect place. My friend Lee encouraged me to prowl there as well, as it's a holy place with many temples, and I was sure to see monks and Buddha statues all over the place. Sounded good to me!
At the end of our day in Siem Reap we stopped at a few nice art shops, and I found a couple interesting pieces. After significant haggling, I ended up buying one that I particularly liked. The shipping via DHL cost nearly as much as the actual statue, but the total was slightly less than the Chicago statue I had been looking at. So I felt good about the deal.
A few days after returning from the trip, the statue arrived in a large wood crate. I was very entertained by that – and the folks standing in the line at DHL were as well. "That looks like it came from the jungles of Colombia!" "Wow, whatever I'm picking up won't be nearly as cool now."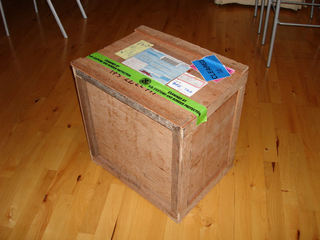 Taking the crate apart and pulling out the statue was a ton of fun. I felt like frickin' Indiana Jones. It was an interesting feeling to see the statue again, since I saw it last in such a different environment, on the opposite side of the globe!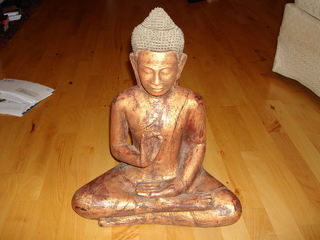 The statue looks nicely aged, even though it's surely a fake (the Cambodian government won't let actual antiquities out of the country!)
Having the statue in my entryway reminds me to relax each day when I return home. I see the Buddha and ground myself in that moment by taking some deep breaths and calming my mind. Then I remember how much fun I had on our trip, and how beautiful the temples of Siem Reap were.
Enjoying that reminder everyday is absolutely priceless.