SF F-line Streetcars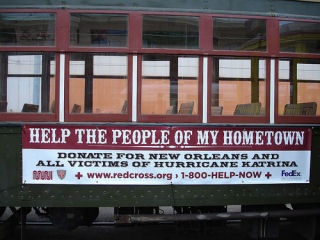 I was just visiting a game developer in San Francisco and on the way back I caught sight of the New Orleans streetcar on the F-Line which runs up and down Market Street. There's an article about the Market Street Railway F-Line on the New York Times here. (Registration probably required.) Also, information about the old streetcars on the line here.
The streetcars which run on the F-Line are all old streetcars purchased from other cities. It's like a rolling streetcar museum. One of these came from New Orleans, and someone had the brilliant idea of putting an ad for donations to the Red Cross put on it, for the Hurricane Katrina victims. Photo and story here. Very cool.